Compiled by Phil Brannen, Md Emran Ali, Jeff Cook, Sumyya Waliullah, and Owen Hudson
---
Anthracnose fruit rot disease, caused by fungal Colletotrichum species, is one of the most significant disease problems of commercial strawberry production in Georgia and the Southeast as a whole. Dark, sunken lesions on fruit are the main disease symptoms (Fig. 1). Hot, humid weather and significant rainfall make Colletotrichum-induced fruit rot a widespread problem in strawberry production. For disease control, growers mainly rely on preventive fungicide applications from flower bud emergence to harvest. The most commonly used single-site fungicides are quinone outside inhibitors (QoIs); the QoI active ingredients (a.i.) azoxystrobin (e.g. Abound) and pyraclostrobin (e.g. Pristine) are often utilized to manage anthracnose fruit rot. If appropriate resistance-management strategies are not implemented, QoIs are at increased risk of resistance development and subsequent control failure.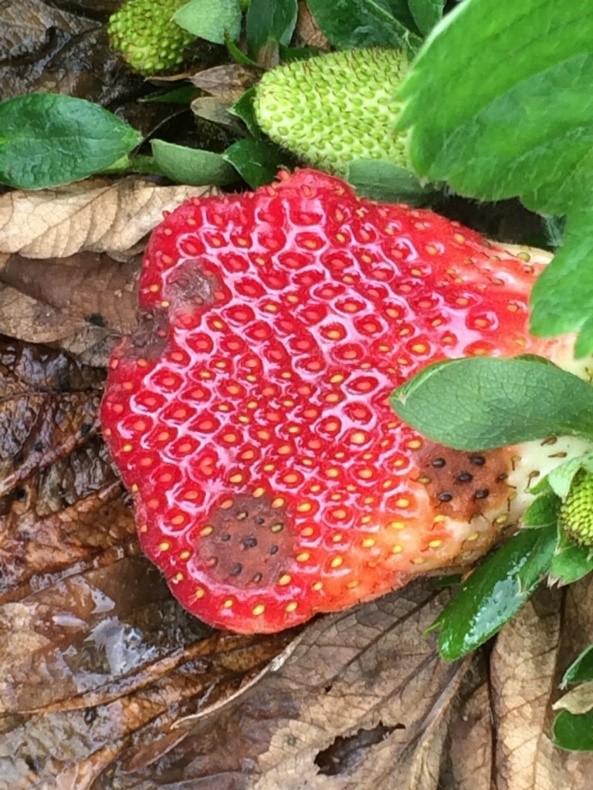 The QoIs have been marketed since 1996, and resistance development is expected with long-term use, but limited surveys and in vitro efficacy tests conducted in 2004 and 2008 did not confirm QoI resistance in Georgia. However, more recently, producers have complained of control failure when using QoI fungicides, and resistance has been confirmed. In 2019, county agents submitted numerous samples to the Plant Molecular Diagnostic Lab (PMDL) in Tifton, GA. Dr. Md Emran Ali, the lab director, collected 108 strawberry fruits with visible rot symptoms to test for fungicide resistance; these samples were from seven different strawberry farms scattered throughout Georgia. These farms had received multiple applications of QoI fungicides during the 2019 growing season, as well as in previous seasons. Dr. Ali identified all isolates as Colletotrichum acutatum. For further confirmation of QoI resistance, he tested all 108 isolates for the presence of the G143A substitution using the PCR-Restriction Fragment Length Polymorphism (PCR-RFLP) assay. His results showed the presence of the G143A mutation in all QoI-resistant C. acutatum isolates, 87% of isolates with moderate resistance, but none with reduced sensitivity or sensitive isolates (Table 1). These findings suggest that there is a high risk that resistance has developed in C. acutatum populations wherever QoIs have been utilized over time for control of anthracnose fruit rot in Georgia – and likely elsewhere.
Table 1. Sensitivities to pyraclostrobin against Colletotrichum species isolated from strawberries in Georgia (2019).
| Sensitivity categories for QoI resistance | # of isolates by category and % of total isolates | Percentage with G143A mutation | Percentage without G143A mutation |
| --- | --- | --- | --- |
| Resistant | 51 (47%) | 51 (100%) | 0 (0%) |
| Moderately resistant | 45 (42%) | 39 (87%) | 6 (13%) |
| Reduced sensitivity | 9 (8%) | 0 (0%) | 9 (100%) |
| Sensitive | 3 (3%) | 0 (0%) | 3 (100%) |
For effective control of this disease, growers need to focus on using multi-site fungicides, such as Captan products, and alternation with classes other than QoIs. The Southeast Regional Strawberry Integrated Pest Management Guide for Plasticulture Production (www.smallfruits.org), edited by Dr. Rebecca Melanson (Mississippi State University), provides excellent information relative fungicide selection under various conditions of resistance to anthracnose and/or Botrytis fruit rots.
Moving forward, growers should have their anthracnose populations tested for QoI resistance, and use of QoIs may be limited in future management strategies as a result of widespread resistance development. The Plant Molecular Diagnostic Laboratory, a lab service of the University of Georgia Department of Plant Pathology, is now providing fungicide resistance testing support for several plant pathogens like anthracnose of strawberry. The clinic can accept symptomatic fruit samples (generally 10 per site) to test for resistance.
In 2019, funds were provided by the Southern Region Small Fruit Consortium for resistance testing of both anthracnose and Botrytis – free of charge to producers from member states until the funds ran out. It is too early to know whether these funds will be available in 2020, but check with your local county agent as to the status of resistance testing funds. If funds are not available, you are still encouraged to have both anthracnose and/or Botrytis profiled for your location. The tests currently available, their pricing, a submission form, and submission information are available at the Fungicide Resistant Test web page or by downloading the form.
Samples can be shipped to the following address:
Plant Molecular Diagnostic Lab
Department of Plant Pathology
Tifton, CAES Campus
Plant Science Building
115 Coastal Way
Tifton, GA 31794
The contact information for questions, etc. from Dr. Ali are as follows:
Phone numbers: 229-386-7230 or 229-386-7285
Email: emran.ali@uga.edu
Again, we would highly encourage you to take advantage of this service.  It is very important that you know the resistance profile for anthracnose at your location — fungicides that should work and those that will not.  If you have questions or need help, please contact your local county agent for additional information.  It would be good to overnight samples to the Plant Molecular Diagnostic Lab, and it would likewise be good to communicate with the lab so that they can expect the samples on the day of arrival. Fungicide resistance can be devastating, so use these services to insure that the fungicides you are utilizing are active. Spraying inactive fungicides is the equivalent of spraying water on your strawberry plants.  If a fungicide is not active, you waste money on the fungicide, and you can lose your entire crop to disease as well – adding insult to injury.