By Mark Hoffmann, Small Fruits Extension Specialist (NCSU) and Amanda Lewis, Small Fruits Communication Assistant (NCSU)
---
The journey of a strawberry plant does not start when it is transplanted into the growing field. On the contrary, before a grower receives a plant, it already has a large and complex journey behind it. One could say that it is impossible to understand strawberry production without understanding those dynamics between the strawberry nursery and fruit production. Strawberry nurseries are the bedrock of the entire strawberry supply chain. Without nurseries, there would not be the abundance of plant material that is needed for annual hill strawberry plasticulture production.
The life of a strawberry plant usually starts in virus-free tissue culture systems. From there, plants are propagated in greenhouses and later moved into open-field settings (Figure 1) for many years and in several locations, all belonging usually to a single strawberry nursery. Most of those 'full system nurseries' are located either in California, Canada, or North Carolina. At the end of this multi-year and multi-site cycle, plants are dug and sold as bare-root plants to growers in all America (Figure 2). While bare-root plants are the most common transplant in California and Florida, some nurseries also cut daughter plants (tips) off the runners. These tips are then usually sold to plug plant producers. Those plug producers are usually local operations, located in Virginia, Canada, North Carolina, Ohio, South Carolina, Georgia and other states. Plug plants are mostly used in the Eastern United States and Canada.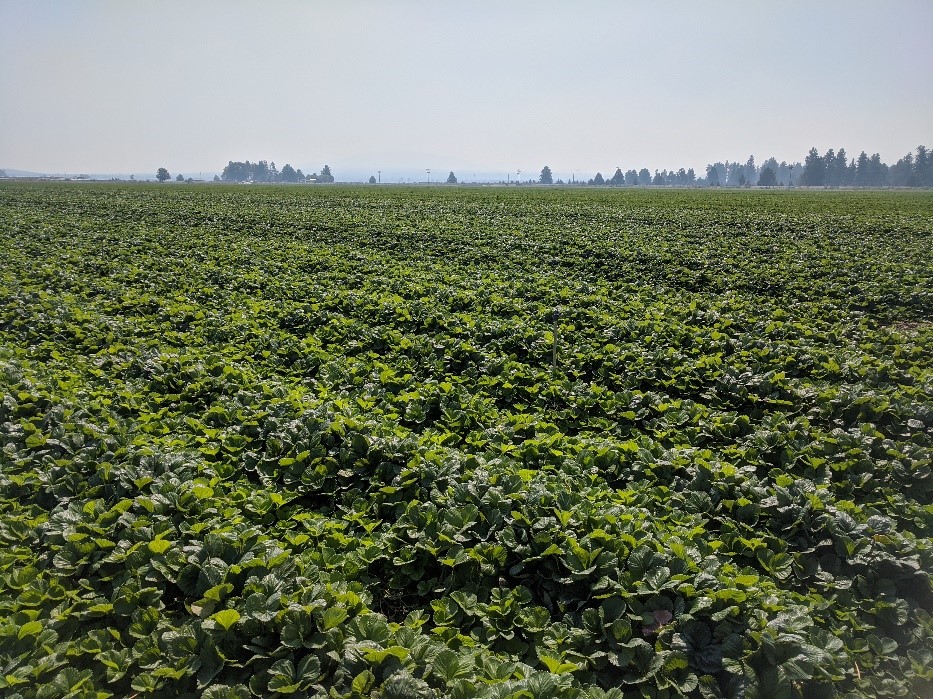 As everyone can imagine, this complicated process of plant production, shipping, and planting is far from perfect and comes with some larger problems for both nurseries and growers. For example, nurseries are using Methyl Bromide (MB)-Chloropicrin mixes for soil disinfestation. However, with no viable alternatives on the horizon for strawberry nurseries, the industry hangs on the lifeline of critical use exemptions . One owner of a large nursery in California brought up the point when we talked to him last year, "If Methyl Bromide was phased out today, the nursery industry will need alternative propagation tools tomorrow."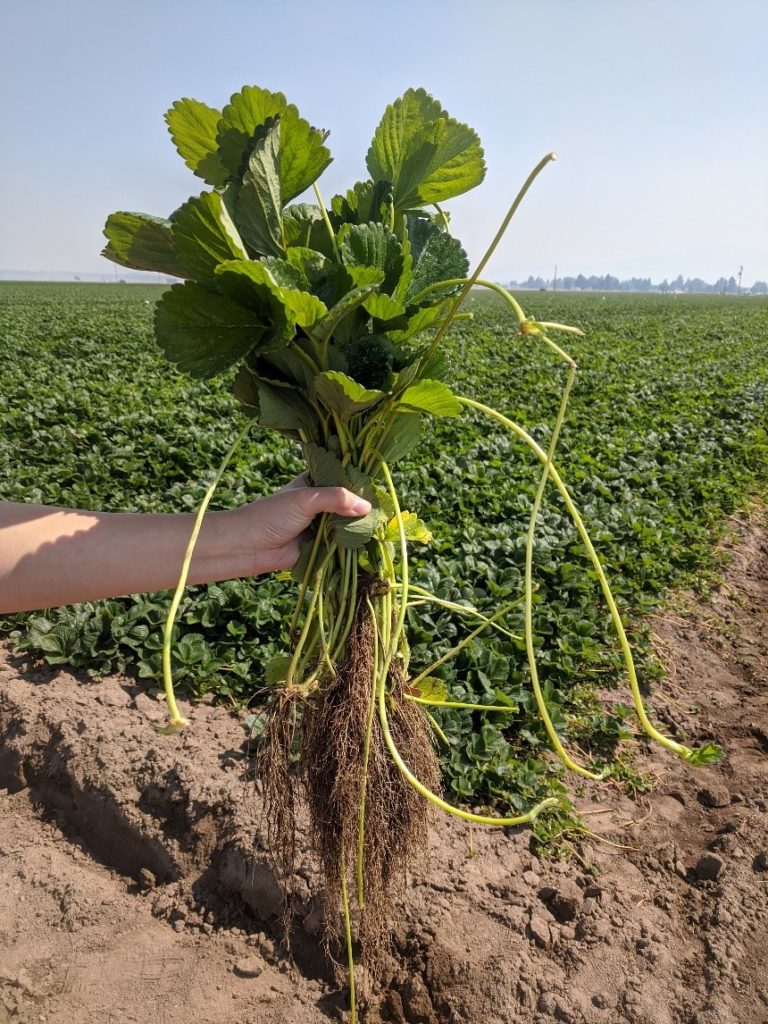 In addition, plant material can still be a symptomless carrier of diseases, that probably did not show while under nursery conditions, but show up in the humid and hot climate of the Southeast. Diseases such as Anthracnose crown and fruit rot, Botrytis fruit rot, Phytophthora crown rot, angular leaf spot and many more cause problems for growers every year.
To move on from this situation, the nursery industry is in dire need of new MB free tools to propagate strawberry plants. Those tools also need to ensure plants can be propagated in a cleaner and less cost intensive fashion. Controlled environment technology (Figure 3) can be such a tool. While it is more common in Europe, the industry in United States has yet to adopt such technology.

More than three years ago, Dr. Mark Hoffmann had recognized the nationwide implications of these problems. While being very apparent in North Carolina and the rest of the Southeast, it was clear that this was just part of a much larger, system wide issue. At the same time, research on strawberry propagation was already underway in the controlled environment group with Dr. Ricardo Hernández at NCSU.
In 2017, Dr. Hoffmann took the lead on a more comprehensive project on strawberry propagation. Over three years, he put together a collaborative nationwide project with key stakeholders and scientists, focusing on the aim to develop new propagation tools for the cleaner and more effective strawberry propagation. The technologies developed were protocols to optimize propagation and conditioning of strawberry plants in controlled environment, greenhouses, and field environments.
Dr. Hoffmann leads a team of 19 PIs and Co-PIs in 11 institutions across the country. This team collaborates with more than 30 industry partners world-wide, some of which are in North Carolina, California, and Canada. The team applied for funding for the first time in 2020, but without success. However, through the determination of every team member to make this work, and the will of strawberry nurseries and stakeholders to collaboratively work towards such a goal, the second project proposal was successful.
In November 2021, the USDA-NIFA Specialty Crop Research Initiative (SCRI) awarded Dr. Hoffmann's team with $5,294,195 for a four year project to investigate the application of controlled environment technology in strawberry propagation. The aim of this nationwide project is to develop and transfer new propagation technology to stakeholders across the country, eventually providing new tools for strawberry propagation in a MB-free era.
This is the first time a nationwide, coordinated research and extension project on strawberries is funded without having the lead institution in California or Florida. The project will benefit not just growers in the Southeast, but eventually every grower in the United States, and expands on the efforts of the National Clean Plant Network (NCPN). The project is driven by a critical need identified by the entire strawberry industry: providing technology that will allow the strawberry industry to acquire a sustainable source of clean plant material through innovation, collaboration, translational science, and outreach.
The team lead is entirely rooted at North Carolina State University (Figure 4). Dr. Mark Hoffmann is the Project Director. He holds an appointment as Small Fruits Extension Specialist and Assistant Professor. Dr. Ricardo Hernández is Co-Project Director. He is a nationwide renowned Controlled Environment expert and Associate Professor at NCSU. Dr. Gina Fernandez is also Co-Director of the project. She took on the NCSU strawberry breeding program in 2017 and is a distinguished Professor in the Department of Horticultural Science at NCSU.
Researchers from the USDA-ARS, Virginia Tech, Rutgers, University of Maryland, The Ohio State University, Cornell University, University of Florida, UC Davis, UC ANR and the strawberry center at Cal Poly San Lius Obispo are also engaged in this project.
More information can be found under: strawberries-pip.cals.ncsu.edu.