Compiled by Mark Hoffmann, NC State University
---
The main muscadine chores for the rest of the year 2019 are: finish harvest, soil testing, scouting for damages, disease control, prepare pruning.
OCTOBER 2019
Harvest: We had a year with exceptional high yields, and some varieties were producing for a longer period of time, and more fruit than expected. You should be almost at the end of your season in the Coastal Plains with probably one or two weeks more to go on late fresh-market varieties. This means your vines used a lot of energy to produce this years crop. Please follow the recommendations below to make sure you give your grapevine the opportunity to rest and allocate nutrient and reserves to the root system before dormancy.
Make sure to scout berries for disease and treat accordingly (see B. Clines article)
After harvest: is a good time to scout your vines for damages and symptoms. Especially damages caused by dead spurs or cordons (see Fig 1) should be scouted and marked. If you have a lot of dead wood, it is worth considering to be pruned out in winter.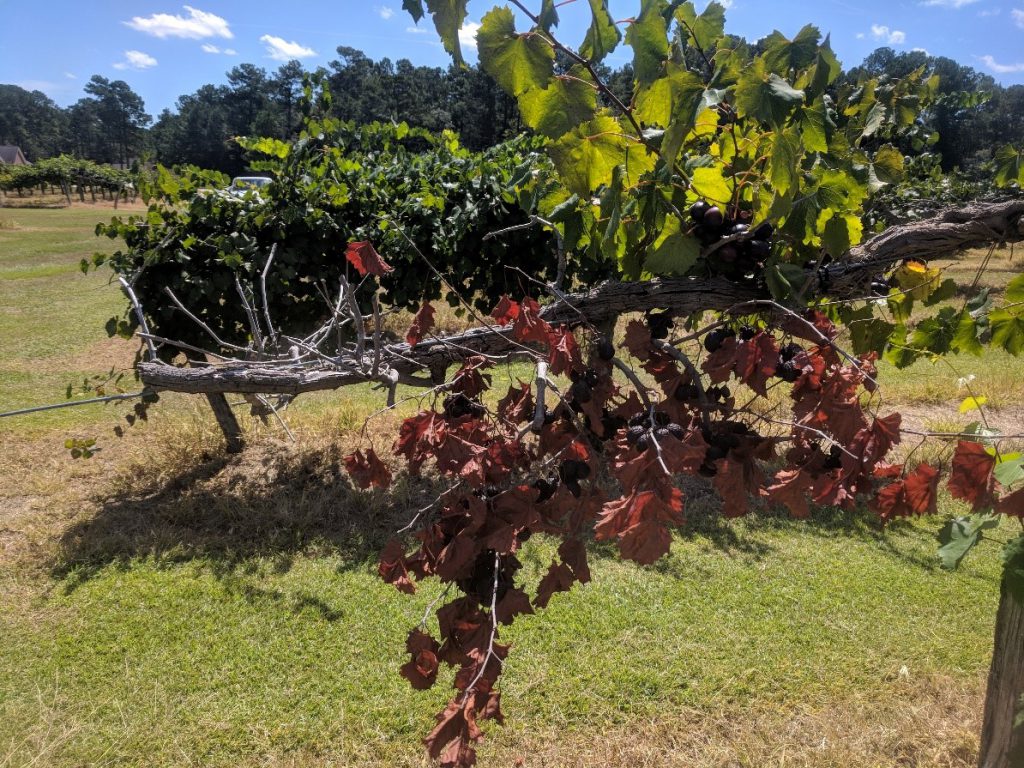 NOVEMBER-DECEMBER 2019
AFTER HARVEST: A broadband fungicide spray (e.g. Mancozeb, Manzate etc. (1.5-4 lbs/ac)) should be used as preventative application before dormancy. This fungicide treatment will reduce overwintering inoculum of diseases such as Black Rot, Powdery Mildew, Bitter rot etc. Warning: Please only use those products after your last harvest (66d PHI)
For NC, SC and GA: Take soil samples and send them to the NCDA & CS Agronomy laboratory in Raleigh, NC), the UGA soil and water testing laboratories in GA, or the Clemson soil and water testing service in SC.
Work with your local extension office to get the correct supplies and get informed how and where to take soil samples (N.C. Cooperative Extension offices). Soil sample analytics in North Carolina at the NCDA & CS are free before Nov. 28 (Thanksgiving). Between Nov. 28 and Mar. 31, the NCDA & CS will charge a $4 fee per sample. Taking frequent samples is important to determine your soil pH and possible lime applications. Your soil pH should be between 6.0 and 6.5. If it is lower, you should follow the lime application recommendations made in the soil report. Dolomitic lime can be broadcasted in the vineyard, but it will take several months to affect the soil pH.
Check all your pruning tools. Order replacement blades or new pruners and loppers in time. Pruning should be start in late December, early January. Invest funds in high quality pruning tools, it is worth it.