By Amanda McWhirt, University of Arkansas; Jayesh Samtani, Virginia Tech University; Mark Hoffmann, North Carolina State University; Barclay Poling, Professor Emeritus, North Carolina State University; and Guido Schnabel, Clemson University
---
During the fall of 2020 much of the Southeastern region experienced above-average temperatures during November. These warmer than average temperatures resulted in above-average growing degree day (GDD) accumulation during that month. Average GDD accumulated in November 2020 were two to six times greater in 2020 compared with previous years (Table 1). This has resulted in higher total GDD accumulation from October to December during 2020 compared to the recent 2019 and 2018 seasons.
In Arkansas, despite below-average GDD accumulation in December, above-average total GDD were accumulated from the period of October through December (Table 1).
In North Carolina, above-average GDD units were accumulated in October to early December in Eastern NC as well as in the piedmont region (Table 1).
The potential impacts of this occurrence on strawberry crown development will vary based on location and planting date. For example, plug plants that were planted in the correct time window may have accumulated above-average GDD from October to December resulting in excessive crown development (Image 1). Cutoffs and late-planted plug plants likely benefited from increased GDD accumulation in November which has resulted in adequate crown development despite being planted later.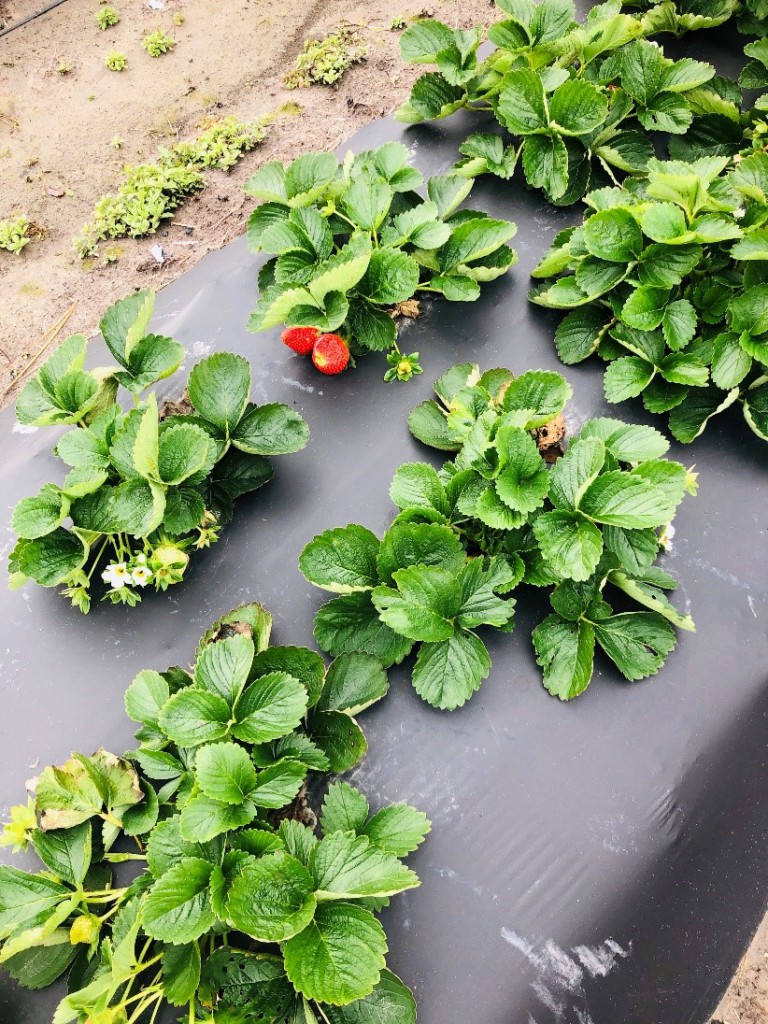 1) Inspect your plants for branch crown numbers.
Growers should inspect plants now and count branch crown numbers (Image 2). This is typically done by digging up an entire plant and pulling off the branch crowns (Image 3). The ideal crown number for optimum fruit production and fruit size is cultivar dependent, but in general, branch crown number on short-day cultivars in January should range from 1-2 per plant which will normally result in 4-6 crowns per plant by spring. Branch crown numbers of 2-3 or more in January could result in 6-8 crowns by spring which is of concern due to the impact on reducing fruit size, especially on cultivars such as 'Sweet Charlie'. Significant fruit size reduction occurs on strawberry plants with eight to 10 crowns.
In Arkansas we counted crown numbers in late December of 2020 at our Vegetable Research station in Kibler (Zone 7b) and observed:

'Chandler' planted September 30th had on average 3 crowns per plant

'Chandler' planted October 8th had on average 1.75 crowns per plant.

In North Carolina we counted crown numbers in mid-January of 2021:

'Camarosa' planted Oct 20th in the Wilmington area: 2-3 crowns

'Camarosa' planted Oct 21st (two weeks too late) in the Raleigh area: 1-2 crowns

In Virginia, plants crown numbers observed in mid-December 2020 varied by farm, geographic locations, planting dates and variety. Branched crowns ranged from 0 to 3 with 'Sweet Charlie' and 'Ruby June' being more advanced in branch crown development.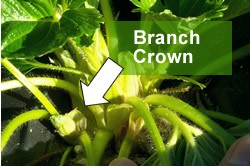 2) Early blossoms are expected.
Because of the unusually high amount of GDD that were accumulated mostly in November of 2020, it is not surprising that cultivars such as 'Camarosa', 'Fronteras' or 'Sweet Charlie' may have blossoms and even fruited in late fall.
In Arkansas, there have been some observations of early blooms on 'Chandler' and 'Fronteras', and even ripe fruit on 'Sweet Charlie' in late December
Similar observations were made in Eastern North Carolina
Additional observations in Virginia indicated early blooms on 'Chandler', 'Ruby June', and 'Sweet Charlie' with even fruiting on some plants in late fall in Virginia Beach for the latter two varieties.
Because strawberry plants have likely gotten both sufficient chilling and sufficient GDD, the crop in some areas could be quickly 'pushed' toward bloom with additional warm temperatures.
At this point, we do not have major concerns that these early blooms will represent a significant loss of crop production, particularly if plants are showing good branch crown development. Instead, a concern is that dead early blooms and any fruit left on the plant could be a source of inoculum for botrytis crown rot or botrytis fruit rot. In general, sanitation (i.e. removal of dead leaves, blooms, and fruit) should reduce fungal inoculum levels, shorten drying time after rainfall, and improve spray coverage. Whether sanitation practices actually have a significant impact on disease or yield in NC, AR, or VA is still unclear, however. One study out of Florida shows very little effect of sanitation on disease development and no effect on yield.
3) Avoid crop enhancement with row covers.
Growers have wondered how early accumulation of GDD and early blooms may impact the crop moving forward.
At this point we recommend growers focus on protecting the crop that is set in the crowns and holding it in dormancy. This means leaving plants un-covered. Row-cover use might lead to more vegetative growth, very early bloom, and higher disease incidence, rather than more fruit. Early blooms will lead to a very high risk to yield losses due to frost and freeze events in early spring. Plants already have accumulated plenty of GDD and the aim for the rest of the winter is to keep plants from blooming for another two months as much as possible.
If temperatures remain cool in February, early bloom is less likely. If, however, we do experience above-average temperatures in February, there is a concern that due to the extra GDD accumulated in November the crop will be pushed to bloom early. Early bloom in February would put many blooms at risk of cold damage if temperatures drop again later in the month or in March and this could represent a real risk of major crop loss.
For growers who planted late and have concerns about small plants size. Using a row cover at this point is not advisable as it is not believed that row covers in late winter/early spring will result in additional crown development and instead will only result in "pushing" the crop to develop earlier. This could be particularly risky this year due to the increased GDD that we observed in November which by Jan 1, 2021, has put the crop in many locations with sufficient GDD and bloom will advance with additional warm temperatures.
Growers should also proceed with normal fertility rates and not try to push the crop with higher rates of Nitrogen.
4) Now is the time to buy row-covers to protect your blossoms in spring.
While we do not recommend the use of row covers for crop enhancement at this point, we are concerned about the possibility of an earlier bloom and therefore the higher need for frost and freeze protection. We highly recommend growers stock up on row-covers now and get pipes and sprinkler systems set up in fields.
To be prepared for cold temperatures or even a freeze event, we recommend an integrated cold protection approach. Having sprinklers and sufficient row covers in place can make the difference between a good and a low yielding season. We recommend the use of heavy row covers (1.5 oz) for cold protection. Strategies such as double covering can help to protect blossoms from artic freeze events. For additional reading, refer to VT publication on Frost Freeze Protection (1) (vt.edu). We have listed some row-cover suppliers located in the Southeast in Table 2.
Our team plans to reconvene in February to provide another crop update.
Table 1. Growing degree day (GDD) accumulation in different regions of the Southeast during October, November and December over the last three seasons. GDDs accumulated in November 2020 is on average 2-3 times more than in 2018/19.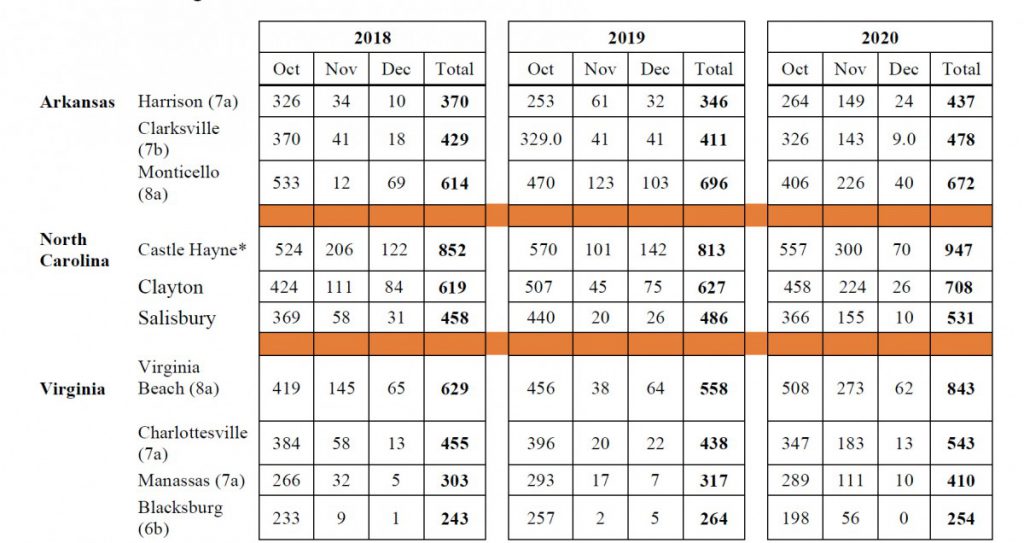 ---
Table 2. Row cover and sprinkler suppliers for the Southeast (Source: North Carolina Strawberry Association)
Atmore Industries
Row cover manufacturer (Gro-Guard UV) 115 Industrial Drive, Atmore, AL 36502 888-396-2566
bfarrai@frontiernet.net
www.flotecinc.com
Agrifabrics, LLC
Row covers (AGROFABRIC)
5905 Atlanta HWY, Suite 101,
Alpharetta GA 30004
770-663-7600
peter@agrofabric.com
www.agrofabric.com
AutoVerters
Row cover manufacturer (DuPont/Typar)
P.O. Box 850, Roanoke Rapids, NC 27870 252-537-0426
barbaradickens@autoverters.com
www. autoverters.com
Berry Hill Irrigation
Row covers (Atmore GroGuard, Dupont Typar), hold-downs, row cover hoops,
sprinkler systems
3744 Hwy 58, Buffalo Junction, VA 24529 434-374-5555, 800-345-3747
sales@berryhilldrip.com
www.berryhilldrip.com
Coor Farm Supply Service, Inc.
Row covers (DuPont/ Typar and WinterBlanket) sprinkler systems, thermometers, frost alarms
P. O. Box 525, Smithfield, NC 27577
919-934-4573, 800-999-4573
mail@coorfarmsupply.com
www.coorfarmsupply.com
Gra-Mac Irrigation
Sprinkler systems
2310 NC Hwy 801 N.,
Mocksville, NC, 27028
336-998-3232, 800-422-3560 gramacirr@yadtel.net
www.gramacirrigation.com
J & M Industries
Row covers (Agribon; also woven and needle-point covers), loop hoops
300 Ponchatoula Pkwy.
Ponchatoula, LA 70454
800-989-1002, 985-974-6751 jgideon@jm-ind.com
www.jm-ind.com
Johnson & Company
Sprinkler systems
P. O. Box 122, Advance, NC 27006
800-222-2691, 336-998-5621
hrj@jc-irrigation.net
www.jc-irrigation.net
Pro-Ag
Row Covers, Hold Downs
250 26th Street Drive SE
Hickory, NC 28601
828-328-2501
sales@proagonline.com
Strickland Bros. Enterprises, Inc.
Row cover management equipment
3622 Wiggins Rd., Spring Hope, NC 27882 252-230-0345
www.stricklandbros.com
TriEst Ag Group, Inc.
Row covers (Atmore Gro-Guard, DuPont, Frost Alarms, Digital Thermometers,
Hold Downs)
P.O. Box 448 Greenville, NC 27835
844-878-5178
customerservice@triestag.com
Walker Bros, Inc.
Row covers (DuPont), high tunnels
105 Porchtown Rd., Pittsgrove, NJ 08318 856-358-2548
scott@walkerseed.com
www.walkerplants.com