Justin Scheiner, Associate Professor and Extension Viticulture Specialist, Department of Horticultural Sciences, Texas A&M University
---
In 2021, the University of Arkansas System Division of Agriculture and Texas A&M University cooperatively released a new table grape, Southern Sensation Seedless. What makes this grape special is that after thirty-four years of trialing in central and southeastern Texas, areas with extreme pressure from Pierce's Disease (Xylella fastidiosa), no Pierce's Disease (PD) symptoms have been observed and vines have remained productive for over twenty years when other tables grapes under trial (Flame seedless, Blush seedless, and Beauty seedless) died from apparent PD. To date, it represents one of very few table grapes available with tolerance to PD.
Southern Sensation Seedless was initially selected in 1973 by Dr. Jim Moore at the University of Arkansas Fruit Research Station in Clarksville, Arkansas where it was evaluated sixteen fruiting seasons. However, it was eventually discarded after vines froze to the ground in 1985 and 1996 after experiencing temperatures of 5 to 12°F. In central Texas, trunk and cordon injury was also observed after temperatures dropped to 9°F so Southern Sensation Seedless is only recommended for the mid-South (USDA cold hardiness zone 7b or warmer), and not the upper South.
PD tolerance may be Southern Sensation's most valuable characteristic, but it also has attractive clusters and very good fruit quality. Clusters are large averaging 302 grams in Arkansas and 159 to 725 grams in Texas trials. Clusters are well filled to tightly filled with limited berry cracking observed in Arkansas (3 out of 15 years) and no cracking observed in Texas. In these trials, Southern Sensation Seedless berries ranged in size from 1.97 to 2.30 grams and had small, unnoticeable seed remnants. The overall fruit quality of Southern Sensation Seedless is ranked high and in Somerville, Texas (120 miles from the Gulf Coast) researchers were able to successfully hang and harvest fruit over about a month-long period. No formal evaluations of fungal disease resistance have been made, but in 2020, vines in Somerville maintained a healthier canopy than Blanc Du Bois in neighboring rows after a period of intense downy mildew pressure.
In both Arkansas and Texas, Southern Sensation Seedless has had good vigor on its own roots. In Somerville, Texas Southern Sensation grafted onto 1103P is less vigorous than Blanc Du Bois on the same rootstock, but own-rooted vines appear to have higher vigor than own-rooted Victoria Red. Vines have a semi-erect growth habit and may be successfully trained upright or downward.
Southern Sensation Seedless is recommended as a fresh-fruit cultivar for on-farm and local market sales in U.S. Department of Agriculture (USDA) hardiness zones 7b or warmer. It will be patented and plants are available from Double A Vineyards.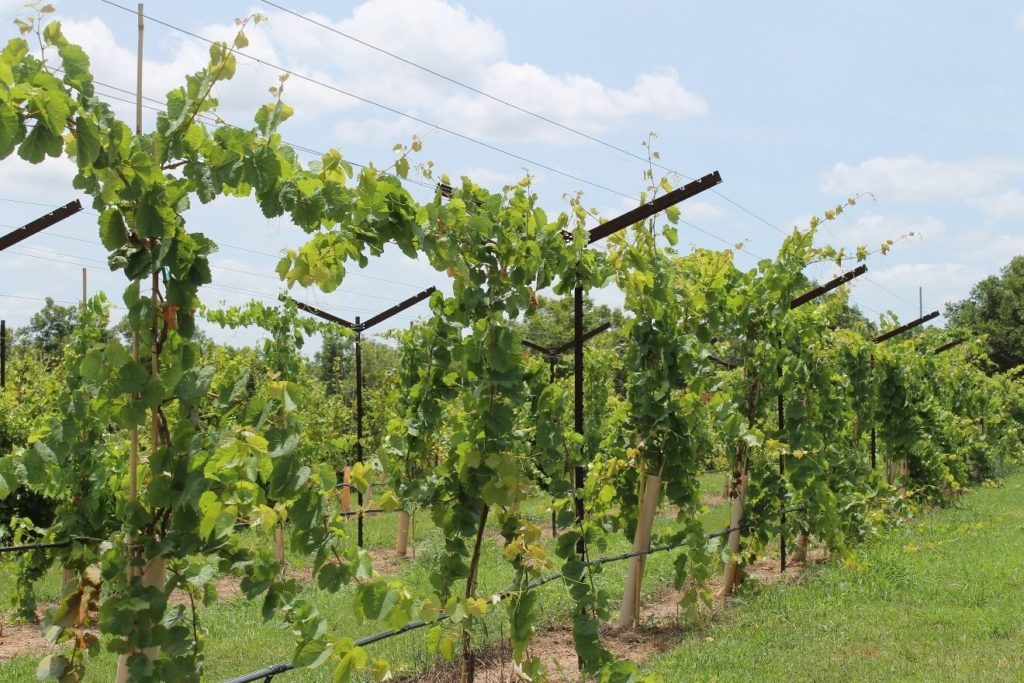 More information on Southern Sensation Seedless grape is available through HortScience.