By John R. Clark, University of Arkansas
---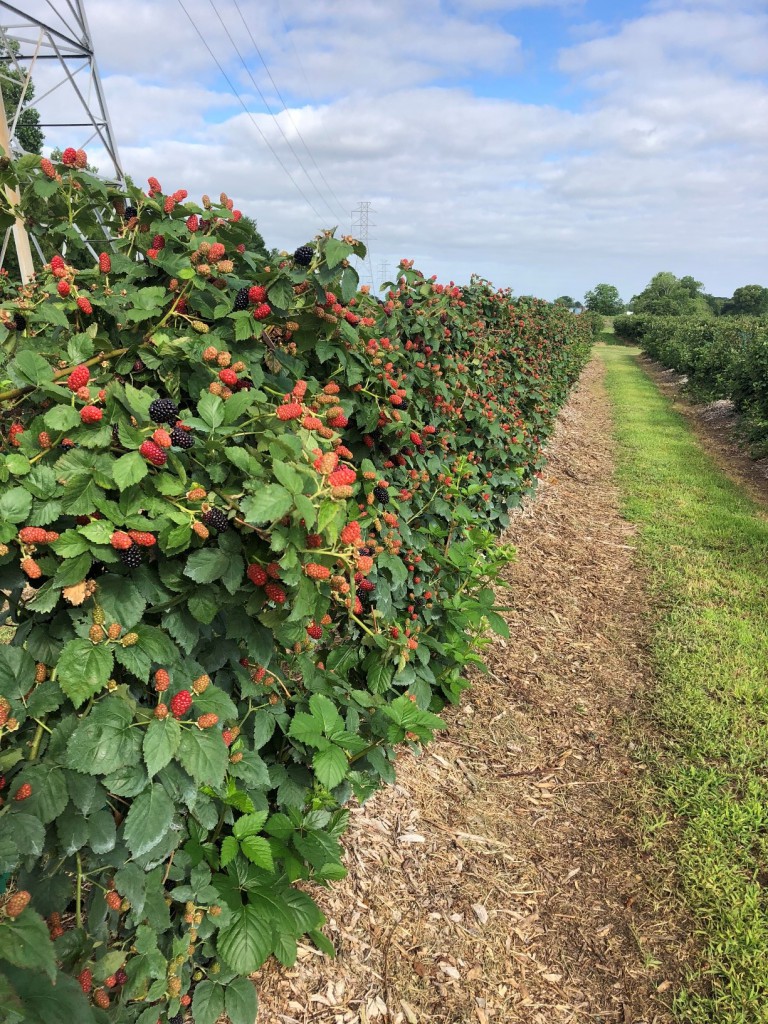 Prime-Ark® Freedom was released in 2013 by the University of Arkansas, the first thornless, primocane-fruiting blackberry ever developed. At the time, I recommended it primarily for home-garden use along with possible local-market production. I gave this limited-use recommendation largely due to its yield and postharvest storage shipping potential were not as promising as other UA developments for the commercial shipping market (note the shipping potential pertains to fruit storage after harvest, not the shipping potential of the plants).
Now that Prime-Ark® Freedom has been in the commercial trade for a few years, I am getting many positive comments about its use for local retail market production, particularly in the Deep South. I want to share some of what I have learned and feature comments from several growers including Arnold Caylor and Jeremy Calvert at J. Calvert Farms, Cullman, AL, Alfred Froberg at Froberg's Farm, Alvin, TX, and Bob Welker, Tifton, GA. I also got comments from Johnny Hoblick with Agristarts, a major propagator/marketer of the variety. Key items I want to express:
The floricane crop is what is being utilized commercially.
Its early ripening allows fruit sales up to 2-3 weeks or more before other blackberry varieties, overlapping with strawberries and blueberries for local markets.
Berries are large and exciting to consumers.
Prime-Ark® Freedom had a rather precarious path in its development. When I first selected 'APF-153T', which became Prime-Ark® Freedom, on June 26, 2007, I noted it had very large berries but a light crop in a spring-freeze-damage year. That season, 25oF was experienced on April 9, long after budbreak and likely during bloom. Late June was the first ripe date that year on this plant, which turned out to be about a month later than it normally has the first ripe berries. The early blooms were killed, masking its early ripening potential that year. Further, the original plot of this selection was established in a wet area of our Fruit Research Station, and the plants grew poorly. The area of the Station where it was first established was also not trellised, and the canes did not stand up well without support. In 2009, I noticed a few monster-sized berries on the plants, so I decided to establish it in a more suitable site for further evaluation. It came quite close to being discarded simply due to weak growth in this poor site. After planting in a more desirable location, it was able to show its merits which included very early ripening, large berries, and overall good flavor.
As with many new varieties, when they are planted in the "real world", we start learning their full potential, or conversely, their limited value. Prime-Ark® Freedom is one that has blossomed with potential.
Earliness of the Floricane Crop
Earliness is the most important attribute for Prime-Ark® Freedom. Alfred shared that it begins harvest about April 20 in Texas, and overlaps with strawberries for nearly a month. He says, "we are able to give the customer a taste of blackberry and get them hooked so they will come back from May-July to pick our other varieties." He further states that, "my customers can pick strawberries, blueberries, and blackberries all the same day." Johnny, in commenting on growers use of it in Florida, reported that Prime-Ark® Freedom ripens at a perfect time to compliment blueberry harvests there as well with overlapping transition into additional blackberry varieties after the end of blueberries. Bob indicated that Prime-Ark® Freedom ripens about a month before most other varieties in his area, and this early crop is enough to make a difference in profits in his operation. Arnold and Jeremy share the same thoughts, and Prime-Ark® Freedom gets blackberries on the shelf 2-3 weeks before other varieties. Although I noted it to ripen on average nine days earlier than Natchez in Arkansas, these growers are finding a more extreme expression of earliness than usually seen in Arkansas.
Size of the Berries
Prime-Ark® Freedom can produce very large berries, in Arkansas the average for the season is about 10-11 grams but larger berries have been observed. Alfred said it best: "Big berries fill buckets…… and buckets pay bills!" Likewise Arnold and Jeremy note large size in Alabama. Large berries are eye-catching to customers, maybe more so with blackberries compared to other fruits.
Yield
I had concerns regarding yield potential on Prime-Ark® Freedom in early evaluations in Arkansas. Our research plot yields ranged from 6,000 to 17,000 lb/acre. Natchez usually produces 19,000 to 25,000 lb/acre, and also ripens in the early season. I get concerned with yield when considering a variety release, particularly when yield varies, as it can expose a grower to reduced profit potential. I think we have learned a key fact in recent years; yields of Prime-Ark® Freedom are likely better in the Deep South compared to our research location in west-central Arkansas. I think this is due to at least two factors:
Prime-Ark® Freedom blooms very early, and we often experience late winter and early spring freezes that impact yield (and earliness) at our location unlike further south where these occurrences are less likely.
Prime-Ark® Freedom produces a larger primocane crop at our Arkansas location, and the more primocane crop produced, the greater the reduction in floricane crop the next year. In the hotter locations in Alabama, Texas, Georgia, and Florida, the primocane performance is repressed and fewer buds are "spent" in primocane-flowering, allowing more buds for the floricane crop.
Quality
Prime-Ark® Freedom produces berries that are good in flavor, but like most blackberries, flavor varies due to ripeness, weather, and crop load. My average flavor ratings for Prime-Ark® Freedom were the same as Prime-Ark® 45, a little higher than Natchez, but not as high as Osage and Ouachita. Soluble solids averaged about 10%, a little lower than the floricane varieties and Prime-Ark® 45. However, if the last time a local-market consumer had a fresh blackberry was 10 months ago, the early berries taste mighty good.
Postharvest storage trials were conducted on Prime-Ark® Freedom prior to release. It did not store as well as Prime-Ark® 45, and the biggest concern was berry leak after 7 days of storage. However, all of the growers commented that they sell the berries the same day harvested (either pick-your-own or on-farm sales) or within two days of harvest. Prime-Ark® Freedom stores adequately for short periods of time.
Chilling Requirement
In recent years, I have had numerous inquiries about blackberry production in Florida. I have always discouraged this to varying degrees, particularly in central Florida or further south. Prime-Ark® Freedom shows the lowest floricane chilling requirement of any Arkansas variety, and has shown some potential all the way to central Florida. Johnny states that it is his favorite blackberry in his home planting just south of Ocala, FL. I still have concerns with adequate and consistent budbreak in this region, but the plants will fruit and can help supplement other berry sales, particularly blueberries. Alfred's and Bob's locations likely benefit from the low-chilling requirement also, as chilling has varied substantially in recent years in Deep South locations. Prime-Ark® Freedom is providing a reliable variety even when chilling is less than optimum.
The Downsides
I have mentioned several concerns with Prime-Ark® Freedom in Arkansas. As with any variety, there are limitations. One of the main ones I mention again, and that is early budbreak and bloom, which can lead to crop reduction. Prime-Ark® Freedom is the variety I go to when I visit our research location to indicate to me if late winter freeze or spring frost damage has occurred in our program. It jumps out early in the spring! Interestingly, I have not found it to suffer winter injury on canes much worse than other varieties, but buds and flowers can be damaged severely. Johnny shared that he believes there is slight risk of freeze damage on flowering/fruiting in the southern parts of USDA Hardiness Zone 7, but the risk increases substantially in more northern zones.
Canes of Prime-Ark® Freedom are erect and grow quite large, but they are very subject to falling over in the wind. This variety absolutely requires trellising due to this tendency and might benefit from tying canes to the trellis wire also. Arnold and Jeremy comment that the laterals are quite stiff and break more easily than other cultivars in management.
Berry doubling is seen on Prime-Ark® Freedom, but this is most common on primocane berries. I have observed this ranging from a few berries to the majority of the primocane crop being impacted. This is not acceptable for berries that must be handled long-term after harvest. I showed this tendency to a home garden marketer one time, and he said, "two for one, that is not a problem!" This is likely not a concern for pick-your-own markets and is rare on floricane berries.
Final Comments
It is always exciting to see a variety perform better than expected, and I am pleased that Prime-Ark® Freedom is providing a benefit to a range of Deep South, local-market growers. Alfred said it best, "I am a fourth-generation strawberry grower. Looks like blackberries may save my farm!" That is a message I love to hear.